Masterpiece PBS is co-producing the author's final work, so you know it'll be good.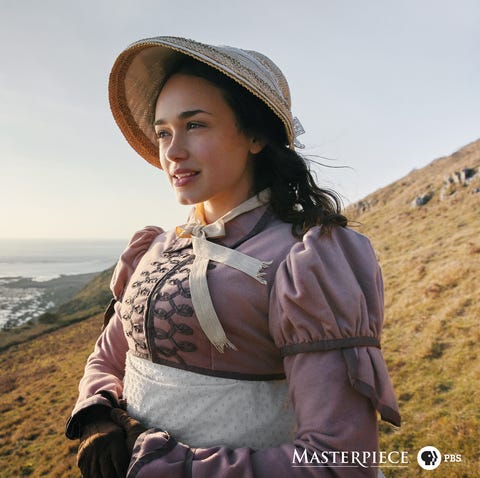 COURTESY OF MASTERPIECE PBS
Jane Austen's final, unfinished novel Sanditon is being adapted for the small screen. Written just months before the author died in 1817, the story centers around Charlotte Heywood, her unexpected trip to a posh coastal resort town, and her relationship with a handsome young man named Sidney Parker. Austen only finished eleven chapters of the story, but her original text has been extended into an eight-part miniseries
Here's what we know about the project so far:
ROSE WILLIAMS AND THEO JAMES WILL STAR IN THE SERIES.
Other members of the cast include Anne Reid and Kris Marshall.
THE FIRST PHOTOS FROM THE MINISERIES ARE FINALLY HERE.
See a sneak peek right here:
THE TEXT IS BEING ADAPTED BY SCREENWRITER ANDREW DAVIES.
You may not know Davies's name, but you certainly know his work. He's written a number of television programs and movies including House of Cards and Bridget Jones's Diary, but we like to think of him as the man responsible for the much-beloved 1995 Pride and Prejudice miniseries starring Colin Firth and Jennifer Ehle. Basically, Austen's last work is in good hands.
"Jane Austen managed to write only a fragment of her last novel before she died – but what a fragment!" Davies said in a statement announcing the project.
"Sanditon tells the story of the transformation of a sleepy fishing village into a fashionable seaside resort, with a spirited young heroine, a couple of entrepreneurial brothers, some dodgy financial dealings, a West Indian heiress, and quite a bit of nude bathing. It's been a privilege and a thrill for me to develop Sanditon into a TV drama for a modern audience."
THE SERIES WILL RUN ON ITV IN THE U.K. AND ON MASTERPIECE, PBS IN THE STATES.
In the U.S., it will premiere in 2020.